THE BROTHERHOOD OF MAN
THE STORY 1969-1983 by Tony Hiller

PLEASE NOTE: Click on cream underline words below to start audio sample and red underlined words to start video sample
IN THE BEGINING
If it wasnt for the fact that my dear friend Johnny Goodison and I wrote a song Love One Another, the Brotherhood of Man would not have been born. At that time I was general manager of Mills Music publishing company and also a producer for Decca Records. The song Love One Another was a very strong song both musically and lyrically. We both believed it was a hit and I just had to record it. Johnny was a very good singer, so I approached him to see if he was interested in joining the band I was about to form. At that time I had signed two new writers to Mills Music, they where Roger Greenaway and Roger Cook. It was Roger Greenaway who was interested in joining the band. The next guy I approached was Tony Burrows, he was a successful session singer who was also interested. I now had three guys! What I needed now were girls! and who better than Sue Glover and Sunny Leslie. Both where making a name for themselves as session singers to some of the biggest recording artists of the day. They also loved the idea, now I had a band and from this day I called them the Brotherhood of Man.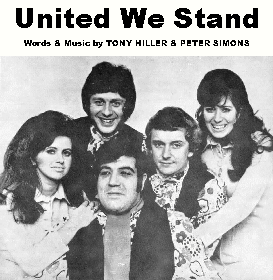 THE DECCA RECORD CONTRACT


I approached Dick Rowe head of the pop department of Decca Records with the idea, he liked what he heard and gave me permission to cut two sides. Johnny and I wrote the flip side A Little Bit Of Heaven. I recorded the band at Morgan Studios in Willesden, North London. Everybody loved it and it was released, but it never happened. I was glad to say that Dick Rowe still had faith in me and decided to sign the band to Deram the new label of Decca records.
Johnny and I started writing like crazy for the next session. We decided on two songs to record. They were United We Stand and Say A Prayer. I recorded the band at Decca studios in Broad Hurst Gardens in North London with a large orchestra and top musicians, resulting in two wonderful arrangements by Cy Payne. After I had put the voices on and mixed the whole thing I knew that the Brotherhood of Man had arrived. January 1970 the single was released and our faith in one another was proven correct. I was glad to say both charted in the UK and USA. The song was also covered by many famous artists including, Elton John, Sonny & Cher, Anne Murray & Glen Campbell, Bobby Vinton , Ray Stevens, Peters & Lee. As recently as 2002, it was recorded by the band SIX, who won the Irish pop idol contest and the record went six times platinum.
MUSICAL HISTORY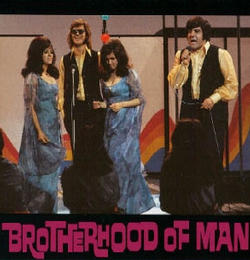 Our next recording session was again at Decca studios. Two songs that we all chose were Where Are You Going To My Love that was co written by myself and Johnny, Billy Day and Mike Leslie. The flip side was Living In The Land Of Love. I was glad to say both charted in the UK and USA. The song was covered by many famous artists including Olivia Newton-John , Miracles, Osmonds and Ann Marie David.
After a year Tony Burrows who besides recording with Brotherhood of Man, made musical history by recording chart hits simultaneously with the following bands, White Plains, Edison Lighthouse and the Pipkins. Tony left the Brotherhood to continue with this new found success. I was then introduced to an American singer by the name of Hal Atkinson who took Tony Burrows place.
The next single for Brotherhood of Man was

Reach Out Your Hand

and flip side

A Better Tomorrow

, which charted in the USA. Roger Greenaway was soon to follow Tonys footsteps by departing from the Brotherhood of Man. Roger was extremely busy at this time writing big hits with his partner Roger Cook. I replaced him with a very talented singer Russell Stone. A few more singles were released, but we had no further chart success and Decca decided to drop us. I thought that was the end of the recording career life of Brotherhood of Man.
EUROVISION CHART SUCCESS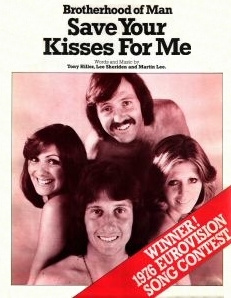 I still continued to use the Brotherhood of Man by virtue of recording broadcasts for the BBC. I was using various session singers plus two new song writers I had signed to Tony Hiller music, Martin Lee and Lee Sheriden who where in fact very good singers. We further added two new girls, Sandra Stevens and Nicky Stevens and they became the Brotherhood of Man for the purpose of radio broadcast.
I was approached by a friend of mine Terry King to see if I would be interested in Brotherhood of Man appearing on a Belgium show. The star of the show was Vince Edwards and we did exceptionally well. It was then I decided to reform the Brotherhood of Man. After the show I approached the band to see if they were interested to record and be managed by me, I therefore signed the new outfit to my new production company.
I started writing songs with Martin and Lee, and I used my own money to record many tracks for an album with a view to getting a recording deal with a major company. After recording I approached Peter Prince at PYE Records and played him some tracks. In 1974 he signed the band for one single release on their Dawn Record label a song titled When Love Catches Up On You and flip side How Can You Love Nothing happened, the next single Lady and flip side Loves Bound To Get Ya to our delight the song charted in Belgium and Holland. We were busy working with various TV and radio shows and things were going extremely well.
In 1975 a friend of mine Eddie Levy who was with ATV music publishing company, who incidentally handled my publishing company for the world played me a Barry Blue song titled Kiss Me Kiss Me Baby It was in fact one of the flip side of Barrys current single. I loved it and cut the song with the Brotherhood of Man. The flip side side was a song Put Out The Fire it became an enormous hit for us all over Europe
.
I would frequently join the Brotherhood of Man whilst on tour spending some of the days writing with Martin and Lee for future recordings. One day we were working at a club in Preston called Cloud Nine, and on this particular day we wrote three songs. One of which was

Save Your Kisses For Me

, after we recorded the song it sounded like a world smash and in 1976 I entered the song for A Song For Europe. Appearing at the Royal Albert Hall that night, winning and being presented with the award from the BBC is a memory that will stay with me till the day I die. We then went to the Hague in Holland with the song representing United Kingdom, and we won. We were number one in 27 countries and sold over 5 million singles.

Save Your Kisses For Me

has become the most successful contest winner of all time. Martin Lee, Lee Sheriden and myself were the writers of this Eurovision song and in 1976 we received Ivor Novello statues awards for the following categories Most Performed British Work, Best Selling British Record and International Hits Of The Year.
BARRY UPTON JOINS THE BROTHERHOOD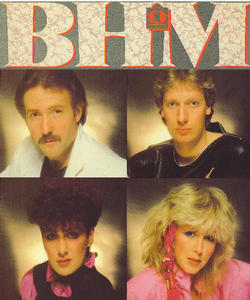 We worked world wide on various TV, Radio and concerts all over the world and charted with 6 more hits including 2 number ones Angelo and Figaro selling millions of records along the way. In 1982 we thought it couldnt get any better, until Lee Sheriden decided to leave the band and it was back to the drawing board once again. His replacement was a good friend of mine Barry Upton.
We finished our deal with PYE Records in 1979 and released 2 singles on my own label Dazzle Records. In 1981 we signed a contract with Terry Slater at EMI Records along with the Brotherhood of Man with new member Barry Upton. We recorded the album BHM and from the album emerged 3 singles, of which Lightin Flash charted in 1982.
Barry Upton
continued with the Brotherhood of Man until 1983 when Martin Lee informed me that he, Sandra and Nicky were not happy with the type of venues they were working in and they thought it might be best to retire whilst they were still on the top. They left me and very shortly after I heard that Lee Sheriden was back touring with the band.

THE BROTHEROOD OF MAN CHART HISTORY
CHART SINGLES
1970 United We Stand
1970 Where Are You Going To My Love
1971 Reach Out Your Hand
1974 Lady
1975 Tell Me, Tell Me, Tell Me
1975 Kiss Me Kiss Me Baby
1976 Save Your Kisses For Me
1976 My Sweet Rosalie
1976 Highway Man
1977 Oh Boy (The Mood Im In)
1977 Angelo
1978 Figaro
1978 Beautiful Lover
1978 Middle of the Night
1982 Lighting Flash
CHART ALBUMS
1976 Love and Kisses from Brotherhood Of Man
1978 B for Brotherhood
1978 Brotherhood Of Man Images
1978 Brotherhood Of Man 20 Greatest Hits
1981 Brotherhood Of Man Sing 20 Number Ones
SUMMARY
From 1969 to 1984 I used 13 different artists with the Brotherhood of Man, I recorded 204 different tracks, which I wrote or co wrote 149 different songs, I released 36 singles in which 14 charted, I released 20 albums in which 6 charted, the Brotherhood of Man received over 30 Silver, Gold and Platinum discs.

I now look back with joy at those wonderful years and am delighted that I was instrumental in putting together such an array of wonderful talent, like the late great Johnny Goodison who went on to write and produce many hits. Tony Burrows to this day is still recording and still has a wonderful career touring with White Plains. Roger Greenaway along with his partner Roger Cook went on to become one of the greatest writers that this country has ever seen, also chairman of the PRS (performing Rights Society) and vice president of ASCAP. Russell Stone along with his lovely wife went on and recorded many hits. The talented Sue and Sunny carried on with session work and went on and recorded many big hits of today. Barry Upton whom I also had the pleasure of writing many hits songs with, Barry also went on to write hits in his own right.
Martin
, Sandra, Lee and Nicky are still working as the Brotherhood of Man.

There is now a DVD Video available from BR Music.

Extracts from my forthcoming book and musical.

Tony Hiller
Hyde Park Music Co Ltd copyright 2004